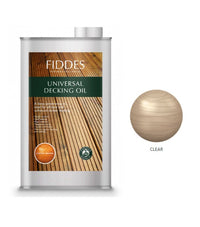 Fiddes - Decking Oil - 5 Litre - All Colours
A solvent based, water repelling Decking Oil, that penetrates deeply into both smooth and planed, rough sawn decking and exterior timber.
Formulated to both preserve, protect and restore.
Prevents splitting & surface growth of algae whilst also offering high resistance to wear & water penetration, with excellent beading.
Available in a range of natural colour shades that contain UV filters that resist colour fade.
Ideal for use on all pressure/preservative treated hardwood or softwood Decking, Panelling, Sheds and Fencing.
Preparation - Ensure all surfaces are clean, dry, and free from any previous finish.
Remove any fungal growth, dirt or moss on old wood prior to application

Sand the substrate with a medium 120 grade sanding paper, removing all traces of dust.

Application - Apply in dry conditions.

Always test on a small area prior to initial application to check colour shade. On all new timber, coat thoroughly to seal, ideally prior to installation.

First Coat - Stir contents thoroughly before and during use. Apply consistently using a good quality bristle or synthetic brush and lay evenly, following the direction of the grain. Leave to dry 24/48 hours

Second Coat - Sand lightly if necessary and apply as first coat.

Longer drying periods may occur during application in cold, damp or humid conditions.

Coverage - A single application will approximately cover 8 square meters per litre, depending on density of substrate