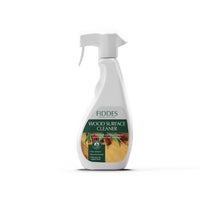 Fiddes - Wood Surface Spray Cleaner - 500ml - Interior Worktops/Floors/Furniture
PRODUCT DESCRIPTION
Formulated with soaps and natural oils which will not damage or remove the existing finish.
Ideal for daily cleaning and maintenance of interior wooden floors and furniture that have been treated with Hard Wax Oil, Lacquer or Varnish.
Rinse free, neutral PH, will not remove exiting finish or leave dulling residue.
Simply spray lightly and evenly, and wipe clean with lint free cloth.